Zip&Dream
An innovative bedding system
Zip&Dream is a new bedding system, Family Friendly and Montessori-inspired, that combines the comfort and safety of traditional sheets with the practicality of a sleeping bag.
Zip&Dream helps children and adults sleep better, being able to make their own beds every morning, saving time and bringing harmony in the family.
From the cot to the double bed:

the alternative to traditional sheets, duvet covers and sleeping bags…
The unique design of Zip&Dream, was developed with children and parents in order to truly satisfy the needs of all family members in terms of good rest, healthy growth and shared well-being.
Created for children, Zip&Dream resulted to be perfect for adults and suitable for all contexts where there's a need to simplify the operation of making the beds, but not giving up on the quality of rest.
Designed for the home, soon Zip&Dream became the definitive solution even in campers, caravans and boats, where sleeping well is never taken for granted and where inaccessible spaces make beds a kind of nightmare that can ruin a holiday trip.
Good sleeping is important, everywhere, at all ages!
The importance of good rest should not be underestimated, learn more about the topic by also reading the article in our blog!
Perfect even on the hardest beds!
Why choose between the practicality of a sleeping bag and the comfort of sheets …if you can have both with a Zip&Dream?
With Zip&Dream, you don't have to lift the mattress every time to tuck in the sheets! Save time and halve the effort: just pull a zip… and the bed is made!
Furthermore, Zip&Dream takes up little space and is very easy to transport, making it perfect for hotels and holiday homes too.
Beds from Single to King Size, even oversized
Cradles, Baby and Montessori beds
Wall, chest of drawers, foldaway beds
Beds for Campers, Caravans and Boats
Zip&Dream is available in all standard measures from baby cot up to double bed King Size, going through Nautical beds or shaped mattress of Campers and Boats. Its handcrafted manufacturing allows any kind of customization on demand. 
How can Zip&Dream change your life?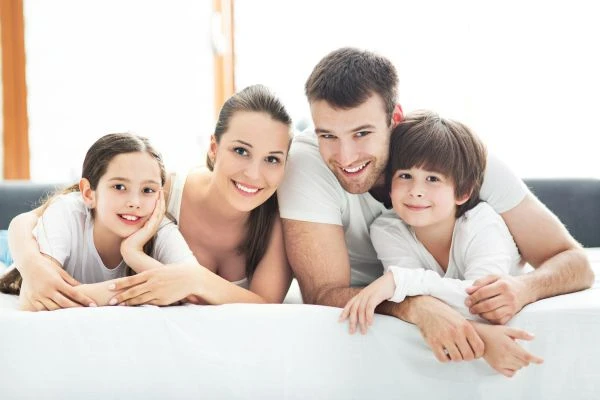 PROTECTED CHILDREN AND RELAXED PARENTS
With Zip&Dream children learn to sleep well in their coats, avoiding to get off covers and wake up , wth huge benefit also for their parents. More: they sleep more safely, away from the risk of falling out of bed or suffocating under the covers.
STOP THE "MESSY BED" ARGUMENTS!
Family life becomes more pleasant: by educating young and old to collaborate in the care of the home, we can prevent the small and big daily stresses that spoil life together.
NO MORE STRESS FROM ORGANIZATION AND LAST MINUTE VISITS!
With Zip&Dream no more embarrassment in receiving unexpected visits: the rooms are always tidy and the house is ready to welcome relatives and friends.
MORE QUALITY TIME FOR THOSE YOU LOVE!
Discover Zip&Dream material and fabrics
Choose the fabric that best suits your needs
Interior rigorously in Pure Cotton Made in Italy to ensure breathability and sweat absorption, exterior in Loneta fabric: an innovative furnishing fabric (70% Cotton, 30% Polyester, anti-wrinkle) to give the bed an aesthetic tidier and protect the sheets: particularly suitable for those who use the bed as a living space even during the day.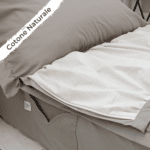 Pure Cotton inside and out for perfect breathability and maximum comfort in every season, thanks to a fine and 100% natural fabric. Both for the models in natural Cotton (canvas 30/27) or in Percale, the lightness and hygroscopicity of the fabric ensure perfect usability even in the summer, for those who are used to sleeping under the sheets even in the heat.
Top performance both from a functional and aesthetic point of view: inside and outside in Pure Cotton made ultra-soft and resistant to wrinkles thanks to the 100% natural Stone Washing treatment. Ideal for those who aspire to maximum comfort in every season and always impeccable aesthetics.
SOFT AND RESISTENT NYLON ZIPPERS
Our zippers are durable: they don't break easily and they won't scratch or hurt the skin
Zip&Dream can be washed at 30°C and dried both naturally and in the dryer
You dry it and reuse it or store it neatly folded directly in the closet.
And when the cold comes? Duvets and Blankets, strictly certified!
Duvet in Hypoallergenic and Anti-mites wadding, Made in Italy production, available in all Zip&Dream sizes, fully customizable and equipped with straps for fastening the duvet inside the pocket.
Weighings: spring version (100g/m2) o winter version (300g/m2), eventually combinable to obtain a greater weight.
Blanket in precious Pure Merino Lambswool, Made in Italy production (high manufacturing of Val Seriana). Breathable, hypoallergenic and highly hygroscopic, able to prevent reumathism and offers a beneficial calming effect.
Weighing: 680g/m2.  Available in all Zip&Dream sizes, e available in all Zip&Dream sizes, fully customizable and equipped with straps for fastening the duvet inside the pocket and elastic bands for using as a mattress Topper.
CERTIFIED MATERIALS OEKO TEX
Absence of toxic or harmful substances for health in all stages of production
All products are handmade in Italy in our laboratory.
From Montessori research, the importance of a safe, cozy and tidy space.
Maria Montessori teaches that early childwood is the most sensitive period for children to develop an aptitude for order and self-care, both as a way of knowledge and as respect for shared spaces.
Those who practice this educational method are called to give a huge importance to the cleaning and care of spaces, as well as their safety and the adequacy of the furnishings to children's abilities.
We all can easily observe it in everyday life: a tidy and welcoming home offers both adults and children less stress and more quality time to dedicate to each other.
Some testimonials about Zip&Dream
Milena I.
(new-mom)
"I liked it because the child remains well covered, with the addition of the duvet then it is not necessary to use additional jackets. Furthermore, since there are zips, there is no danger of pulling the sheet in the face. It is practical: in in a moment the cradle is ready, and above all, after washing it it is not necessary to iron it!
Michela D.
(mom and blogger)
"Girls, I have found the right solution for me, for our beds and above all… for my time!"
Cristina C.
(mom)
"Really beautiful and high quality! Thank you thank you, see you next purchase!!"
Mara S.
(mom)
"Matthew, 5 years old. He got up at 7.30. And he immediately made his bed!!!"
Vilma T.
(mom)
"Excellent material, very fast delivery, baby always covered and bed immediately tidy, fantastic!!!"
Maria Luisa M.
(mom)
"Girls, I have found the right solution for me, for our beds and above all... for my time!"
Antonella C.
(mom blogger)
" Sleeping with Zip&Dream is a real pleasure for young and old. I was struck by the details and the care with which each single product was made. And then the practicality? Unique, priceless! "
Chiara R.
(student)
"I tried it out of curiosity. I bought it again. And now I can't sleep without it!"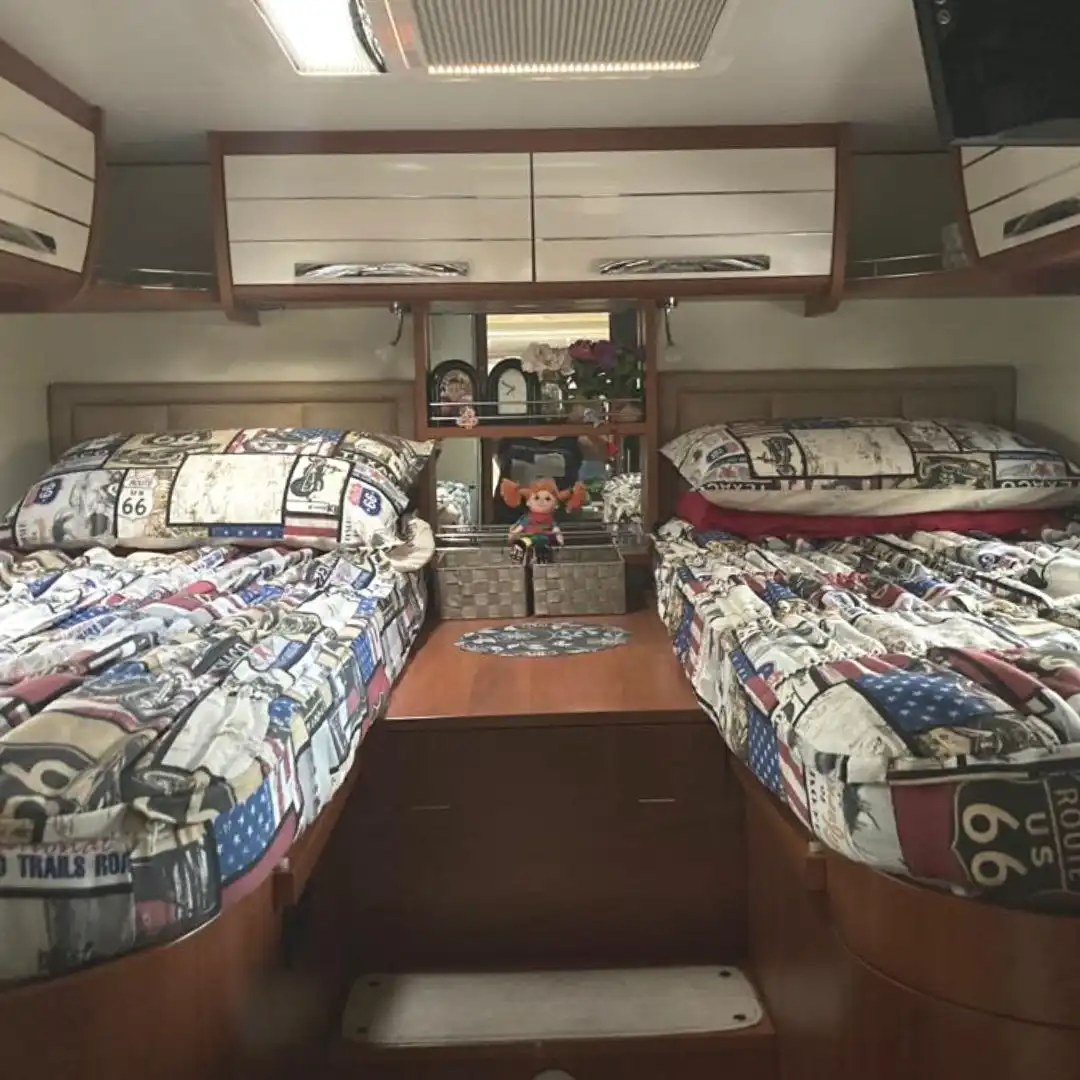 Nives G.
(camper)
"Beautiful, comfortable, fragrant and quality"
Andrea L.
(camper)
"Tried tested and slept wonderfully!! "
Laura P.
(grandma)
"Nice idea, I'm very happy! Even the double bed is gorgeous and above all comfortable"